Want to create your own website for your personal blogging or for your business.
There was a time when website creation was a huge and expensive project. The website designers had to do everything by hand at the time. Businesses that needed a website had to reach out to an online marketing agency and pay them tens of thousands to get a website.
Now a days, Website creation has become more comfortable and cheaper down the years.
You don't need to spend that much to build a WordPress website, and it is not a stressful process. If you are looking to create a WordPress Website for your business, here are ten tips from custom essay help to guide you successfully.
1. Decide on your website name and find a domain
This is probably the most challenging part of building a website, and it will get more difficult over time. There are hundreds of thousands, if not millions of websites already. So, it might be challenging to find a domain for your preferred business name. Your business name and website domain have to be a match. You might have to settle for a different business name to match the available domain in the end. But once you are able to find a domain name that suits your business, the remaining steps to building a website are easy.
2. Register your new domain
After settling for a domain, the next thing is to register your domain with a domain registrar. If you are comfortable working a web host, you can register your domain through a web host. Otherwise, you can register directly with a domain registrar instead of paying extra sums to a web host. The domain registrars are the one that specializes in registering domains. A web host would still have to register your site with a domain registrar, so, why not go directly?
3. Choose a website host
One of the things that you have to do in building your website is to decide the type of website that you want to develop. Is it going to be an eCommerce website or a blog? Whichever one it is, you need a host. A website host will help keep your site and make sure that it's available for others who want to visit.
Install WordPress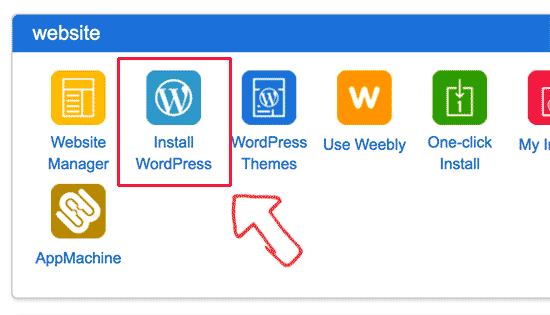 Bluehost, as a hosting provider, has a 1-click installation for WordPress. If you find it difficult to find, you can contact support to help you through it. Once you get started, you will see a screen where you need to include the domain name for the website you are installing WordPress. Choose your domain and click next. You will also have to enter the website name, as well as website password and admin username. Make sure all the boxes check before clicking the 'install' button. This will install WordPress on your site. Afterward, you will see some templates to use on your website.
5. Connect your domain and host
After going through the previous process of registering your domain, getting a web host, and installing WordPress, you have to connect them in one method: point your domain to your host. So, people get to your website when they enter your domain. To do this, you have to configure some nameserver settings for your domain on your domain registrar. You will get the correct settings for your nameserver settings. You can contact your host if you get stuck.
6. Install WordPress theme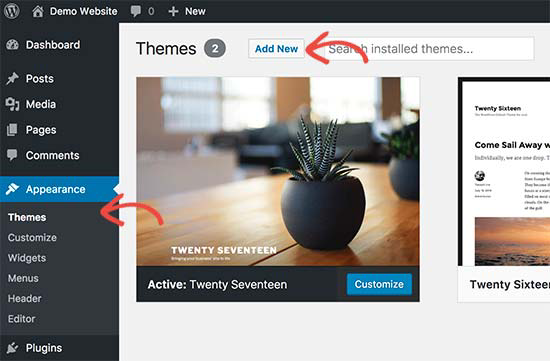 WordPress has themes which you can use to determine the look of your website. With this theme, it is easy for you to change your website's look without rebuilding from scratch. It is easy for you to choose a theme while building your website and also change it at any point in time with ease. There's an underlying theme that comes with all WordPress websites, but this is not appealing for users. However, you have access to thousands of WordPress themes, both free and paid.
To change your WordPress them, go to 'appearance' >> themes page >> then click on 'add new.' The next screen will show you thousands of free WordPress themes for you to choose from.
7. Add content to your site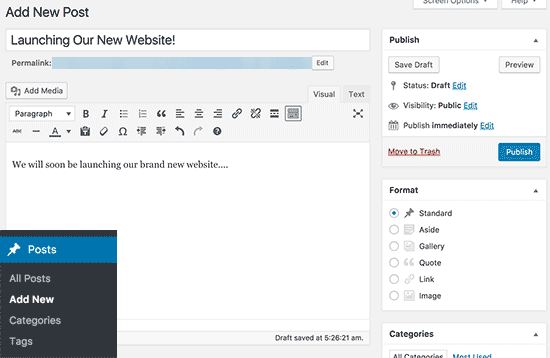 This is where you start creating the pages of your website, and all of this will be within WordPress. There are two types of content on WordPress: posts and pages. The blog section of a website is where a post is. It's like a blog post. But if you don't have plans to own or use a blog, it is ideal that you skip this part entirely. The permanent website pages are the pages. Examples of this are the Contact Us or About pages.
There are some standard pages that an average website would have. These are homepage, about page, contact page, product pages, and blog (if you will be creating a blog post).
8. Customize and tweak your website
Customizing your website comes after you have added content to your website. You can start by setting up your static front page. Then you can change your tagline and site title. You choose the title to your website during installation, but WordPress adds the tagline automatically. Then you can set up the settings for your comment and also create navigation menus. There is plenty of customization that you can do with your website before you start to use it.
9. Install the WordPress plugin
WordPress plugins allow users to add features like photo galleries, contact forms, etc. to their WordPress website. They are like applications for the WordPress site. You have access to over 49,000 free plugins on WordPress with others sold by developers and third-party websites. There are different plugins for things that you want to do on your website.
10. Continue to evolve with your website
After you have completed all the processes above, you would already have your website. Your goals and priorities would determine how your website is going to grow. Your website should continue to evolve from the point of creation. It should not look the same way you created it a few months after. You must continue to grow and improve your website. This means that you have to be active in it.
Conclusion
Creating a website with WordPress is not very difficult. With the tips and tricks discussed in this article, you will be able to create a WordPress website.
Cheers…